Great British Food Awards Grand Champion Winners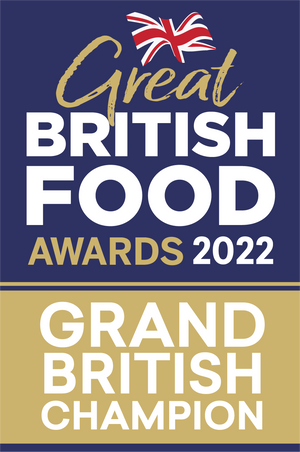 Winchester Cocoa Company has been named Grand Champion in the Great British Food Awards 2022. The Great British Food Awards scheme is the only national awards dedicated to celebrating and promoting authentic British food and drink. The Awards always boast a glittering panel of influential judges, this year including Raymond Blanc, Eric Lanlard, Shelina Permalloo, Michel Roux Jr and Olly Smith as well as food buyers from Harvey Nichols, Borough Market and Selfridges.
Our Fresh Chocolate Selection was top of the chocs, winning the Chocolates category. Judge chef Dipna Anand, said: "I really liked these. The nice green box stands out and I love the idea of seasonal flavours, it's not something I've seen before. Highlights were the Venezuela Milk, nice and creamy with a lovely smooth ganache, and the Chai Vanilla was amazing too. I could have eaten the whole box at once."
We were then pitted against the winners of all the other categories (61 in total) before being crowned Grand Champion. Our unique and delicious Fresh Chocolate Selection was deemed "supreme" by the buyers at Harvey Nichols, who were the judges of the Grand Champion category.
Shirley Aubrey, Grand Final Judge and Food Buying Manager at Harvey Nichols, commented: "We were honoured to have the opportunity to choose the Grand Champion winner. Well done to all who took part, it makes us so proud to be in the wonderful British food industry.
"There was one product that simply stole the show: Winchester Cocoa Company's Fresh Chocolate Selection. Prettily crafted, innovatively flavoured, and simply presented, it hit all the credentials that we were looking for, and for that reason, we decided to award Winchester Cocoa Company the Grand Champion of the 2022 Great British Food Awards. We loved these melt-in-your-mouth chocolates. The perfect gift, a treat for yourself and for sharing, these chocolates are really special"
Chris Attewell, owner, Winchester Cocoa Company, said: "For our fresh chocolate selection box to be announced as the Grand Champion is amazing, especially within a field of such wonderful British produce. Our approach is simple, but a lot of work goes into it! The key is fabulous quality chocolate (we use brilliant Swiss and British chocolate makers), traditional methods and natural ingredients. I love innovative flavours and combinations, but always try to make chocolates that are inviting, indulgent and enjoyable. It's lovely that our approach has been recognised with this award."
A list of all the winners in the Great British Food Awards is featured in Great British Food's Christmas issue, available now. Our winning chocolate selection can be purchased here.